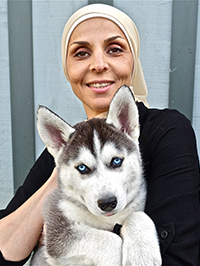 Location of Practice: London, ON, Canada, and worldwide via phone/internet
ADHP Certification: Hypnotherapy, Spiritual Counselling practice of Depth Hypnosis, Depth Hypnosis, Integrated Energy Modalities, Coming to Peace conflict resolution techniques, Ordained Minister with Universal Life Church, Bachelor of Science in Mathematics and Applied Physics, Montessori Education for all stages
Specialization: War Legacy Trauma, PTSD, Conflict Resolution, Lingering Grief, Fear and Anger, Transitions, Non-Violent Differentiation (especially for individuals struggling within the context of their cultural environment), Shame and Guilt, Depression, Anxiety, Feelings of Powerlessness/Helplessness, Loss of Direction, Codependency and Relationships, Low Self Esteem, Challenges with Boundaries, Preparation and Integration of Plant Medicine Experiences.
Faten meets her clients compassionately where they are, in a safe, non-judgemental and supportive space, with sensitivity to the delicate balance of their circumstances. She works with clients through connecting them to their own resources of power, helping them access their internal discerning wisdom. In her experience working with culturally, religiously, socially, or familial disempowered individuals she facilitates their healing and restoration of balance in their lives, with minimum damage to themselves or their relationships to others or their environment. Faten's earlier training in Montessori methodology helps her understand the organic nuances in an individual's learning stages and growth periods, which then assists her in supporting her clients through their own stages of individuation and back into integration. Her previous scientific study of energy from the physics perspective helps her see how everything is connected on a foundational energetic level beyond stories, cultural diversity or constructs and context. In addition, her artistry as an interior designer taught her a lot about the distribution of space and energy flow, and she uses art as a tool of healing, walking and working with the belief that healing itself is an art form!
As a Depth Hypnosis practitioner, Faten utilises the specific tools of this methodology, as developed by its founder Isa Gucciardi, to navigate all terrains by building on the energetic releasing and employment of the individual's innate self-healing capacities. She guides individuals, couples and groups into the Re-Membering of their sense of wellbeing, in partnership with their inner strength. Faten feels privileged to have the opportunities to help individuals, couples and groups navigate this road of healing and integration of themselves back to wholeness, personal growth and bringing meaning into their experiences.
Faten Qalawi
Phone:
(519) 200-9485
Email:
faten-qalawi@hotmail.com
https://www.depthhypnosispractitioners.com/wp-content/uploads/2022/01/Faten-Qalawi.jpg
266
200
depthhypnosispractitioners_uqf7z4
https://www.depthhypnosispractitioners.com/wp-content/uploads/2017/01/ADHP_Logo-2.png
depthhypnosispractitioners_uqf7z4
2022-01-20 23:15:03
2022-01-20 23:24:07
Faten Qalawi