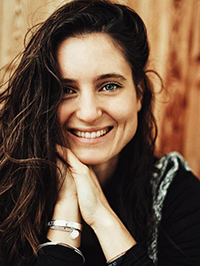 Location of Practice: Aspen, CO, San Francisco, CA, Princeville, HI, Munich, Germany, and worldwide via phone/internet
ADHP Certification: Ordained Minister, Spiritual Counselor, Holistic Healing Practitioner, Certified Yoga Teacher, Certified Hypnotherapist, Certified Depth Hypnosis Practitioner
Specialization: shamanic, life transition, trauma-informed care, equine assisted therapy, wellness, nutritional psychology
Website: cococatalina.com
Coco is a Holistic Healing Practitioner, Certified Yoga Teacher and Certified Spiritual Counselor in the field of Depth Hypnosis and Shamanism, who strives to live an empowered life with authenticity, and to cultivate inner peace. She believes that we are each responsible for our own happiness; and yet, it is only together that this can come to flourish.
After completing her international baccalaureate she went into the jungles of the amazon to pursue plant medicine and healing. From the time she was eleven she has been studying shamanism with incredible teachers in the lineage of Siberian, Mongolian and Celtic shamanism, and she took this passion for indigenous wisdom and healing, ecological justice and animal advocacy into documentary film making. She studied directing at university to make films that raise awareness. She has been a consciousness educator and artist for many years.
She has studied yoga intensively for fifteen years; learning from and assisting many of the world's most renowned and cherished teachers. She has traveled the world sharing the art of living yoga for many years. She is on a continuous journey of blooming growth, inspiring others to live harmoniously with nature and each other.
She is also a passionate chef-de-cuisine. She integrates energy medicine, holistic plant-based nutrition, and regenerative resourcing to produce rich, abundant, sustainable, delectable nourishment.
She is currently pursuing further certificates in Internal Family Systems, Somatic Experiencing, Family Constellation and a doctoral program in Ayurvedic Medicine.
Coco Catalina
Aspen
Aspen
CO
United States
https://www.depthhypnosispractitioners.com/wp-content/uploads/2022/01/Coco-Catalina.jpg
266
200
depthhypnosispractitioners_uqf7z4
https://www.depthhypnosispractitioners.com/wp-content/uploads/2017/01/ADHP_Logo-2.png
depthhypnosispractitioners_uqf7z4
2022-01-20 23:29:29
2022-01-20 23:29:29
Coco Catalina