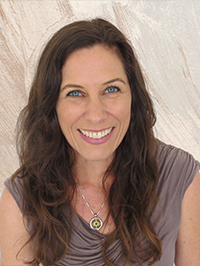 Location of Practice: Santa Rosa, CA, Oakland, CA, and worldwide via phone/internet
ADHP Certification: Certified Hypnotherapist, Depth Hypnosis Practitioner, Minister, EFT Master Practitioner, Certified Life Coach
Specialization: Healing relationships with self and others, reclaiming personal power, working with anger and depression, managing anxiety and excessive worry, navigating spiritual crisis and spiritual awakening.
Website: karmic-warrior.com
For the past 20+ years, Lisa has been helping spiritually minded, high-performing men and women to break free from habitual patterns and heal past wounds so that they can live a freer, fuller life. Many of her clients have been 'on the path' for quite some time and are committed to their personal and spiritual growth. They've already invested in therapy, coaching, workshops, retreats etc., yet they still find themselves stuck repeating the same patterns over and over again.
Lisa draws from her professional training in Depth Hypnosis, Energy Psychology, and Somatic Healing as well as her formal studies in Yoga Philosophy to assist her clients in a gentle and highly effective process of psychospiritual healing and growth. She is also a kriya yoga initiate in the lineage of Paramahansa Yogananda and a practitioner of non-dual Shaiva Tantra Yoga.
Lisa Engles-Witter
Santa Rosa
Oakland
CA
United States
https://www.depthhypnosispractitioners.com/wp-content/uploads/2022/01/lisa-engles-witter.jpg
266
200
depthhypnosispractitioners_uqf7z4
https://www.depthhypnosispractitioners.com/wp-content/uploads/2017/01/ADHP_Logo-2.png
depthhypnosispractitioners_uqf7z4
2022-01-11 19:08:30
2023-02-10 19:42:16
Lisa Engles-Witter