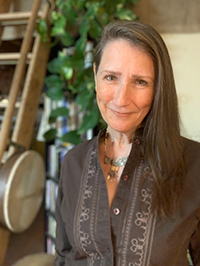 Location of Practice: Joshua Tree, CA, and worldwide via phone/internet
ADHP Certification: Hypnotherapy, Spiritual Counseling, Depth Hypnosis Practitioner, Coming to Peace Conflict Resolution Facilitator, Integrated Energy Modalities
Specialization: Spiritual Direction, Spiritual Emergency, Self-Inquiry, Non-Dual Therapy, Integration of Spiritually Transformative Experiences, Stuckness, Life Transitions, Unhelpful Patterns, Trauma, Anxiety, Empowerment
Website: freedomthroughinquiry.com
Amara's practice is grounded in the understanding that awareness is our greatest healer and that we are all ultimately compelled towards wholeness and happiness, no matter how our inner landscape or outer circumstances may appear. This natural progression towards wholeness, or awakening, is quickened and made more conscious when we meet with another who is deeply attentive and welcoming of What Is.
It is within this environment, and with compassion, that Amara gently guides her clients to the root of old patterns of limitation, fear and misknowing to reclaim the power and wisdom hidden there. As patterns resolve, a more natural, relaxed state is available, a sense of flow returned and true-nature revealed.
To learn more about how she supports her clients in living from a deep trust in their own intuition and wisdom, visit Amara's website where you can also schedule a free 20 minute Discovery Session to see if her offerings would be a good fit for you.
Amara Palmer
Joshua Tree,
CA
United States
https://www.depthhypnosispractitioners.com/wp-content/uploads/2022/01/amara-palmer.jpg
266
200
depthhypnosispractitioners_uqf7z4
https://www.depthhypnosispractitioners.com/wp-content/uploads/2017/01/ADHP_Logo-2.png
depthhypnosispractitioners_uqf7z4
2022-01-06 23:26:39
2022-01-06 23:26:39
Amara Palmer