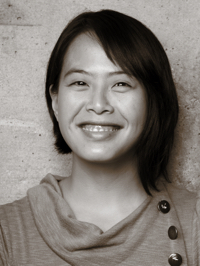 Location of Practice: Berkeley, CA, and worldwide via phone/internet
ADHP Certification: Hypnotherapy, Depth Hypnosis Practitioner
Specialization: Family and relationship challenges, codependency, emotional abuse, sexual abuse, chronic health challenges, depression, trauma, PTSD, spiritual growth, and life purpose
Website: berkeleyholistictherapy.com
Jessica Vechakul, MPH, PhD enjoys working with a diverse range of people, who are seeking to understand themselves better. She has an affinity for working with LGBTQ and POC. She also loves working with healers, caregivers, or activists who have a gift for supporting others, but sometimes find it hard to take care of themselves.
Empathizing deeply helps us connect, but it can also be painful or overwhelming. Even when you're trying your best, it might still feel like not enough. Together, we can work on transforming the harmful patterns that lead to feeling stuck, emotional upheaval, depletion, or chronic illness.
Throughout my life, hardships led me to seek healing in many forms. After years of self-sacrificing work in engineering and international development, I became very ill. Depth Hypnosis was critical in helping me explore and address the root causes of suffering in my life. Depth Hypnosis is an empowering approach that integrates transpersonal psychology, shamanism, Buddhism, and energy medicine.
Using Depth Hypnosis, I can support you in:
Connecting with your inner guidance
Developing strong boundaries and groundedness
Cultivating compassion for yourself and others
Letting go of what no longer serves you
Finding purpose and meaning
My life struggles help me relate to people who suffer from a variety of issues. The insights and skills I gained in my own healing journey enable me to support others. And, the difficulties I've worked through have become my areas of specialization. Now, I am passionate about helping people create a life of joy and fulfillment.
You have the healing potential within you. The universe delivers challenges that help us grow and come to know our true nature. If you want a partner to support you along your journey of healing and self-discovery, contact me to see how we can work together.
Jessica Vechakul
Berkeley
Berkeley
CA
94703
United States
https://www.depthhypnosispractitioners.com/wp-content/uploads/2018/07/jessica-vechakul.jpg
266
200
Simone Kershner
https://www.depthhypnosispractitioners.com/wp-content/uploads/2017/01/ADHP_Logo-2.png
Simone Kershner
2018-07-03 03:17:47
2019-07-24 20:19:57
Jessica Vechakul