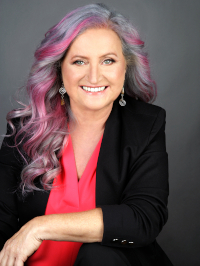 Location of Practice: Oka, Quebec, Canada and worldwide via phone or zoom. Services in French, English and Spanish.
ADHP certification: Hypnotherapy, Depth Hypnosis Practitioner, Applied Shamanism, Energy Medicine modalities and Coming to Peace Processes.
Specialization: Self-understanding, healing, growth and empowerment, space clearing, meditation, conflict resolution and spiritual counseling for people of all age, regression, trauma, anxiety, goal setting and reaching, going to the source of anything that may interfere with your global realization and wellbeing.
Website: www.francinetellier.com
A lifetime spiritual seeker, Francine established herself at an early age in various energetic and martial disciplines from China, where she received a master's degree in 1989. A strong believer of going to the roots of any wisdom of interest to her, she lived in Asia and Mexico several years, studying at the source and cumulating certifications in each country, where she came across transmitters of ancient wisdom (monks, shamans, healers, elders and masters in their field). Her great interest in the ancient practices need an embodiment, an inclusion into the physical body and the daily life as a way of living in addition to being an intellectual knowledge acquisition. She completes her circle of practices by sharing conscious, healthy world cooking, wild plant harvesting and preparing while traveling and when at home. She offers a bridge to native traditions contributing to connectedness to the self and nature, honoring each and every culture, she had the privilege to come to know better from within.
She is now happy to be able to support people's growth and self-healing and empowerment through the methodology offered by Sacred Stream where she found a perfect body of work that roots the vast knowledge and wisdom into the experience. Applied shamanism, Depth hypnosis and energy medicine are among the tools she uses to accompany people.
https://www.depthhypnosispractitioners.com/wp-content/uploads/2022/07/francine-tellier.jpg
266
200
Wyatt Foxe
https://www.depthhypnosispractitioners.com/wp-content/uploads/2017/01/ADHP_Logo-2.png
Wyatt Foxe
2022-07-21 22:34:23
2022-07-21 22:34:23
Francine Tellier